Participants Voice
2019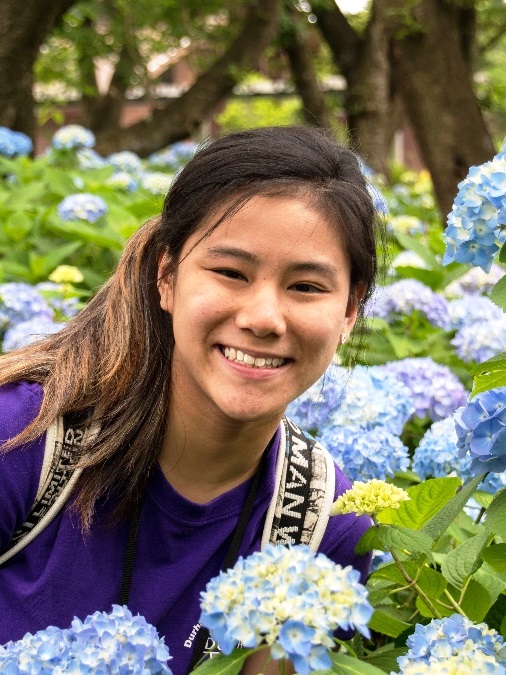 TAY, Charis Si En
Home Institute:
Durham University
I joined the Waseda Summer Session because it promised opportunities to immerse myself in the Japanese political and literary cultures that I had been reading about in my undergraduate studies. I also wanted to make friends from all around the world and from Japan, who shared similar passions and interests in Japan and its culture. The Waseda Summer Session not only lived up to but exceeded my expectations and I loved every moment of my 4 weeks in Tokyo!
Classes at Waseda
At Waseda, I took Literature & Art II and Politics II modules taught by Professor Zwicker and Professor Dabney respectively. In Literature & Art II – Murakami Haruki and Miyazaki Hayao: the Politics of Japanese Culture from the Bubble to the Present, we studied and compared Murakami's novels with Studio Ghibli films. Each Murakami novel and each Ghibli film are fantastic works on their own. However, comparing them drew out more meaning behind the crafting and creation of Murakami's and Miyazaki's works. Professor Zwicker is an amazing lecturer that encouraged us to consider the works in the cultural context that they were produced in. That enabled me to understand and analyse the novels and films to a deeper level than before. Though there were no field trips in this class, we watched a Ghibli film every week and had incredibly exciting discussions about the films after their screening. Professor Zwicker encouraged everyone in class to share their views and interpretations of the films and the huge diversity in the class made participating and listening in class fruitful and enriching. I enjoyed studying Murakami's and Miyazaki's works immensely during the Summer Session and looked forward to every Literature & Art II class with my friends. I also enjoyed Politics II, Global Issues and Political Controversies in Japan and Asia. It was an interesting and intellectual class where Professor Dabney encouraged us students to be very involved and engaged in the teaching and learning process. There were many opportunities for us to share our knowledge and express our opinions on many controversial issues in the safe environment of Professor Dabney's classes. Many of my classmates were from different parts of the world and brought with them vastly different perspectives on each issue. I benefitted greatly from listening to their opinions and sharing with them my own. We had a guest lecturer teaching a class on Japan's security environment and combined field trip to a shrine with Professor Traphagan's Culture II class. The field trip brought our politics classes to life as I saw how the controversies studied on paper are reality for many other people. Moreover, Professor Traphagan approached the shrine differently from Professor Dabney, as a professor teaching culture which expanded my understanding of the controversy surrounding the shrine. Overall, the classes I took in the Waseda Summer Session were the best classes I have ever taken. The session had amazing lecturers and I enjoyed the freedom they gave us to explore and experience Japan within the classroom and outside of their classes. They encouraged us to actively participate in our own learning and enjoy the summer session while learning and living in Tokyo.
Kamakura and Nikko Field Trips
The Waseda Summer Session organized two field trips to Kamakura and Nikko. The Kamakura field trip was not compulsory, but I am glad that I went to Kamakura. Since it was organized early in the summer session, it was a great opportunity to get to know the student interns and make friends through the fun activities planned while sightseeing and enjoying good food. Kamakura is a historically beautiful place with many temples and shrines. But the Nikko field trip was truly the highlight of the summer session! We visited Edo Wonderland, which was a theme park that turned out to be a lot more fun than many of us expected. My friends and I had a lot of fun and took many photos there. At the hotel, dinner was beyond awesome, and spending a night with your summer session friends in the onsen was amazing. We shared snacks, played games, karaoked and had many heart-to-heart talks. We really bonded during the Nikko field trip. We visited Toshogu shrine and also took many photos. You would think that by this time, you would be bored of shrines but visiting with a huge group of friends was exciting! Plus you get to laugh (discreetly) as people struggle to climb the 200-odd steps to Tokugawa Ieyasu's grave.
Living in Tokyo
I think nothing really prepares you for living in Tokyo but I thoroughly enjoyed the whole experience! In Japan, utensils have hooks at the end that stops your spoon from falling into your soup, bidets, heating for toilet seats and vending machines for every good imaginable including ordering your food at restaurants. Everything is incredibly well-packaged and compact. Every inch of space is well utilized. Green tea is sometimes cheaper than water, just like how beer is cheaper than water in Germany. Karaoke is a huge deal in Japan and ten times cheaper on weekday afternoons than nights. Rush hour is from 8 to 9 am daily and a total nightmare. I once had to balance on one foot on the train during rush hour on my way to Waseda but I never fell because of how packed the trains were. Tip: Avoid rush hour at all costs. But in Japan, everyone is more than averagely polite, considerate and extremely hardworking. Maybe overworked. Honestly in Tokyo, from shopping to visiting museums, sightseeing, hiking, you will never run out of things to do!
Final Words
Through the Waseda Summer Session, I learnt about Japanese politics, history, culture, language and about living in Tokyo. More preciously, I learnt that there is nothing scary about new experiences and that you get emotionally attached to a place and the people there faster than you think you do. Leaving Tokyo and the friends made at Waseda after 4 weeks was a lot harder than I expected. I learnt that 4 weeks of Japan isn't enough and that I would definitely want to come back to Japan.