Participants Voice
2019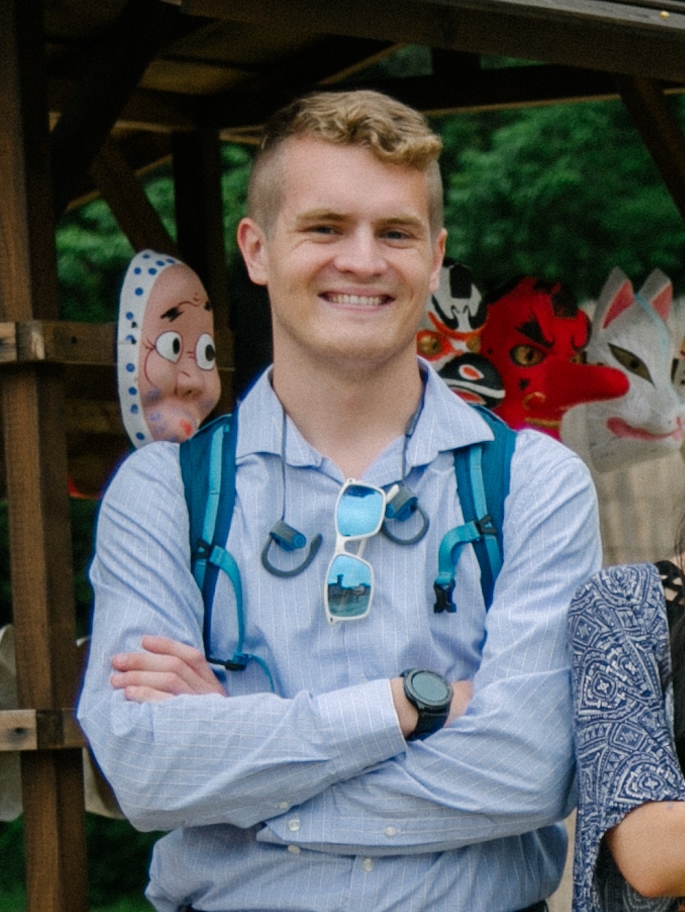 LEVANDOSKI, Max
Home Institute:
Michigan State University
The Waseda Summer Session has made this summer the best of my life. I loved everything about it from the professors, to the classes, and field trips, and I will remember this trip fondly for the rest of my life.
Classes at Waseda
During the summer session, I attended the Politics one and two classes, and both gave me incredible insight into another culture's politics and international relations. The courses had a right work-life balance, and while they were challenging at times, I never found it hindering my ability to explore Tokyo or to hang out with friends. My professor was extremely knowledgeable with the material and fostered great discussion in the classroom. We went on one field trip in each class, one to the Japanese Parliament Building, and the other to a shirine. Both were great eye-opening experiences and added a lot to the courses.
Kamakura and Nikko Field Trips
During my time with Waseda, we went on two incredible field trips. One to Kamakura, and one to Nikko. Kamakura was a fantastic place with great food and breath-taking scenery. My friends and I walked all over the city that day and found some gorgeous shrines and stunning sights and going to the beach at the end of the day was quite the treat by itself! Nikko was the other fantastic field trip we went on. Edo Wonderland was a fascinating place to learn more about Japan's past, and we even got to see a Ninja show! The hotel we stayed at had a gorgeous view of the mountains, some of the best food I have ever had, and a great onsen to relax in. On the last day of our trip, we visited Nikko shrine, one of the most beautiful shines I went to in Japan. Tucked away in the mountains and cedar trees, we found some fantastic places to take great pictures.
Living in Tokyo
My time in Tokyo was genuinely amazing. Living in such a lively city for so long makes me choke up just thinking back on it. The time spent exploring different places in Tokyo with my friends or even only by myself were some of the fondest from this trip. From shopping in Harajuku, Shibuya, or Akihabara, to Eating incredible food in Shinjuku and Koto, every second spent was memorable and meaningful. I found it very easy to live in Tokyo and adapted very quickly to life in the city. It's just such an accessible city to live in! The people are so helpful and polite, and I never once felt unsafe even when walking alone at night.
Student Interns
My favourite memory of the entire trip was going to the Mitama Festival at one of the shrines in Tokyo with one of the fantastic student interns. The thousands of lanterns lit the night beautifully, and I will be forever grateful to the student intern that took me to show me such a profound and incredible piece of Japanese history and culture.
Final Words
After my time in Waseda, I had the opportunity to climb Mt. Fuji, and the climb gave me some significant time to reflect on the truly fantastic time I have had in Japan and the Summer Session. This trip was my first time leaving the United States for a meaningful amount of time, and there's nowhere else in the world I would have gone instead. I learned so much more than I would have ever imagined about the culture, the language, and what it's like living in Japan. The friends I made in this Programme are from around the world, and I know that some of them will be life-long friends regardless of the distance. If I were to sum this programme up, I would say it was so amazing that it felt like a dream.